The Edmunds app for iPhone combines Edmunds pricing, research and inventory search to help you get the best deal — whether you're shopping for a new or used car. With this app you can configure a car to your requirements, get regional True Market Value®, find cars for sale at local dealers, request price quotes, and look for the latest incentives.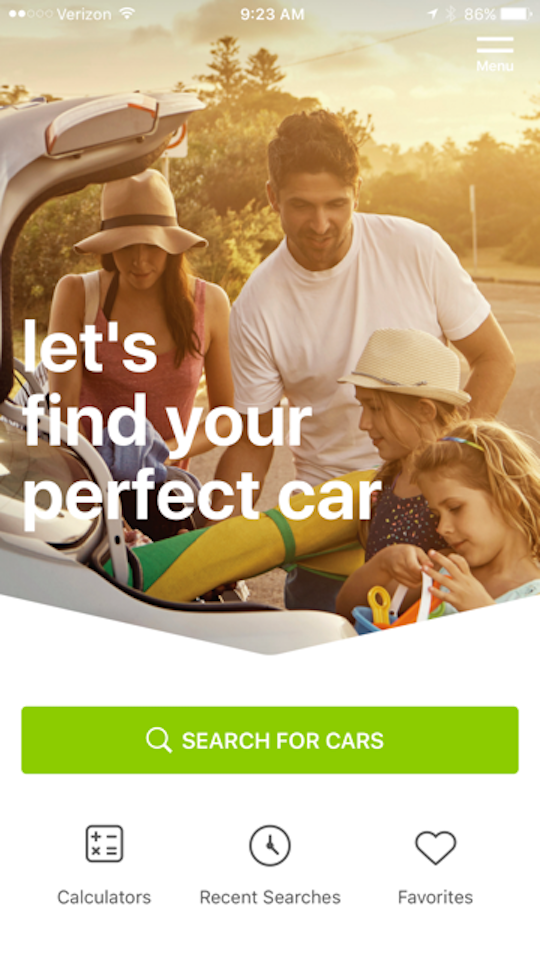 Getting Started
To start researching any car, simply open the app, select "Search for Cars", and select a Make, Model, and Year. You can also search by Keyword, Make, Model, or Feature using the search bar at the top of the page. If you're not quite sure what make/model you're looking for, but you know the body type you are interested in, you can hop over to the "Body Type" search and look through models on that side.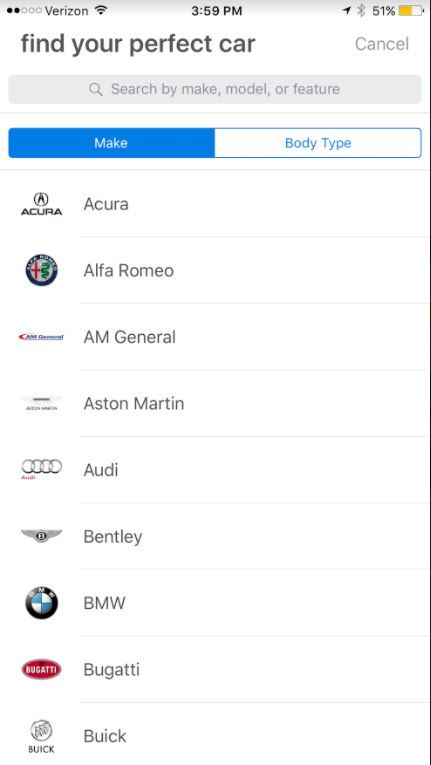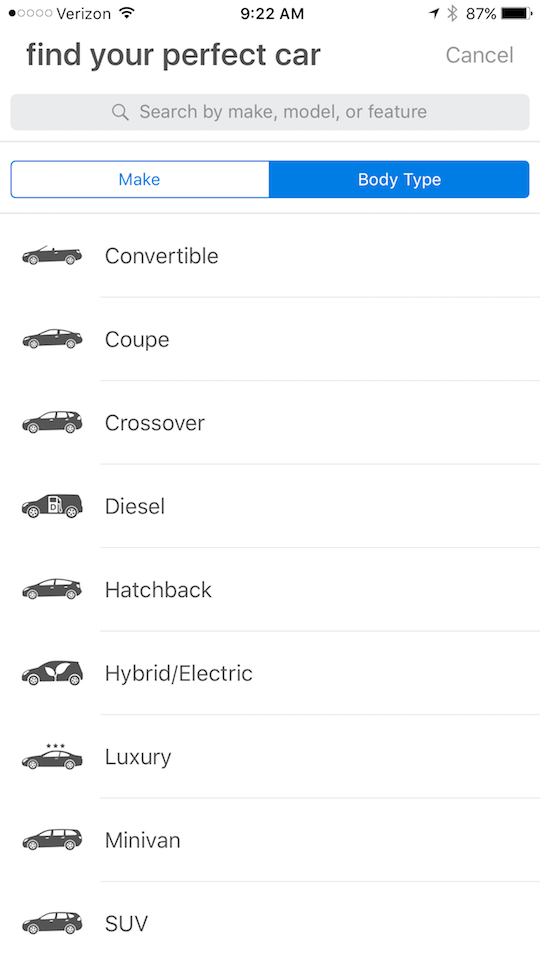 Once you have selected the Make, Model, and Year you may need to further select the vehicle by style (for example, if the car is available as either a sedan or a hatchback) or trim level. Tap the style at the top of the Model Overview page to view any other available trims/styles.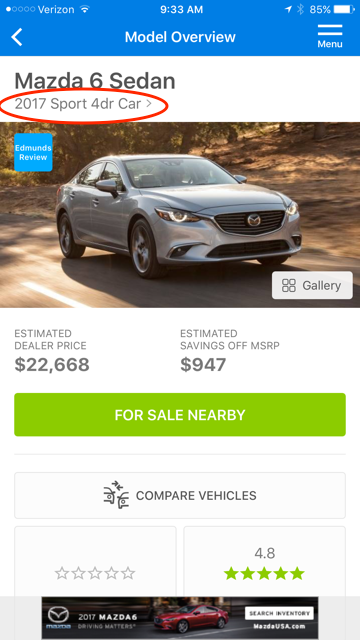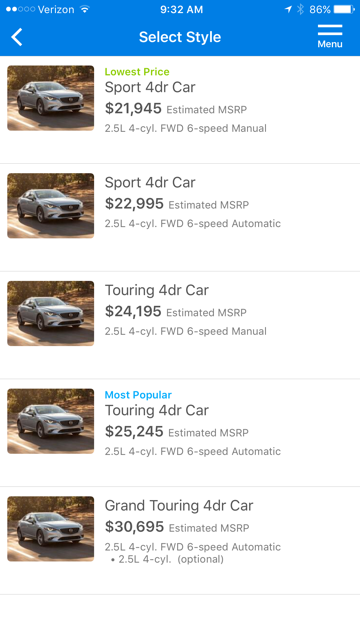 Once you've selected the appropriate style/trim, you will be brought back to the "Model Overview" page for all of your car researching needs. You can tap "Gallery" to view more photos of the vehicle or scroll down to see reviews, features/specs, and estimated pricing and savings off of MSRP. You will also be able to use the "Compare Vehicles" tool to compare the specs of this vehicle to another.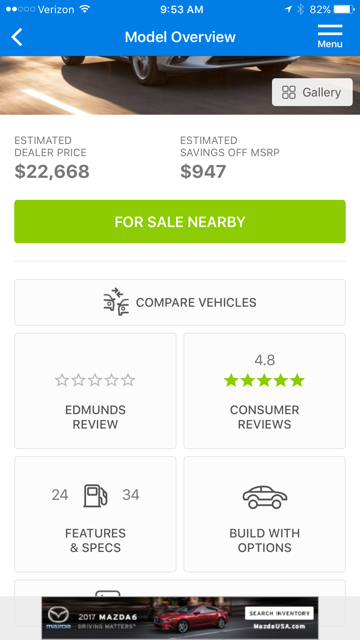 How do I find the value and pricing information for a car?
Pricing information for new AND used cars can be found within the Edmunds iPhone app.
, once you have selected a make/model/year, you can scroll down and tap "Build with Options." You can select the trim level, packages, and options you want the car to have and you will be shown the Invoice, True Market Value (average price paid), and MSRP for that specific configuration.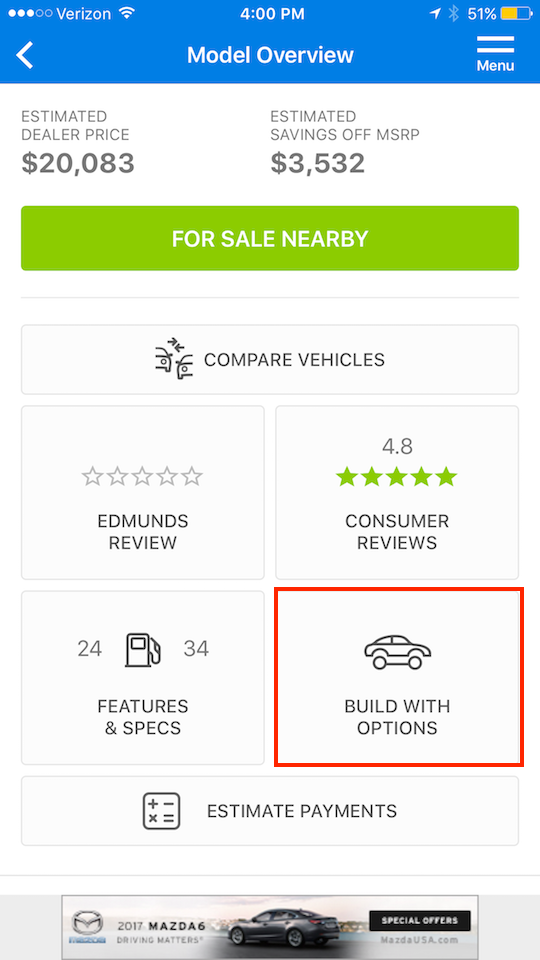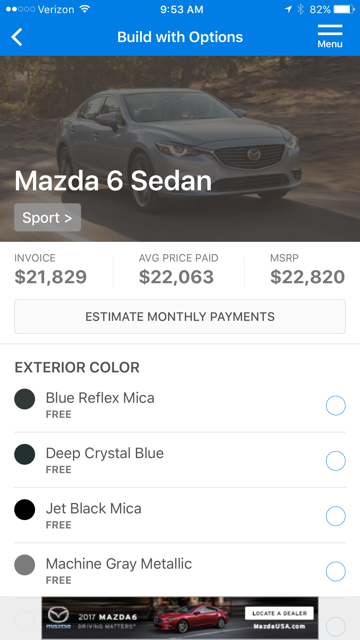 , you'll do the same thing but you'll instead be looking for a title that reads "Price & Appraise." You can enter the mileage, condition, trim level, and options the car has and you'll be shown the estimated Trade-In, Private Party Sale, and Dealer Retail values.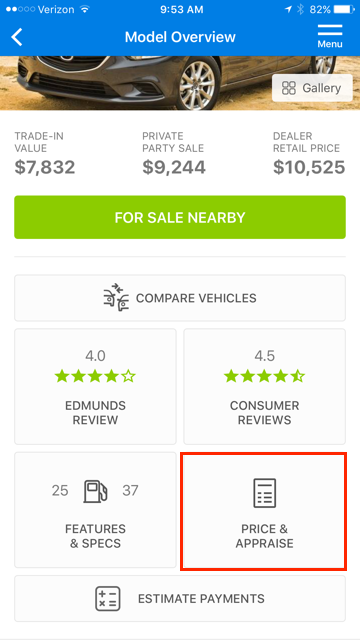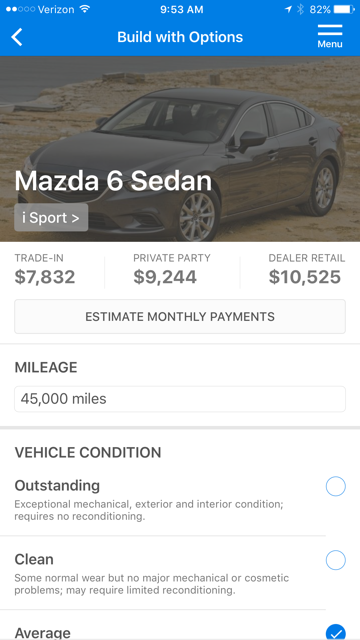 How do I get a price quote?
Under the Model Overview page, select the green "For Sale Nearby" button to view available vehicles in your area. Select a specific vehicle that you are interested in by tapping on the listing.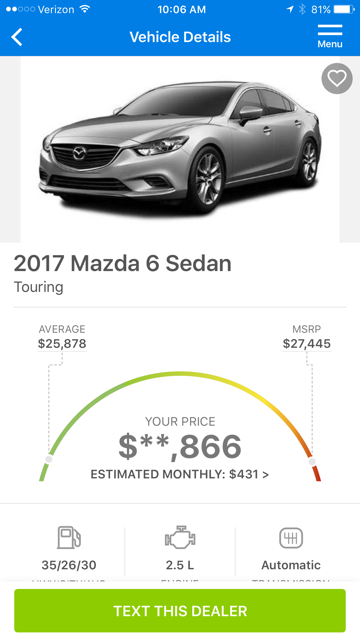 Then, select the green "Text this Dealer" button to get an Edmunds Special Offer quote for the vehicle that you selected. This will connect you with a contact at the dealership so that you can ask questions, schedule a test drive, etc.
How do I save cars in local inventory so that I can reference them again?
Once you've located a vehicle in your area that you like, you can select the heart located in the upper right-hand corner of each listing. Once you tap this button and it turns orange, that means that you have saved this vehicle to your Favorites list.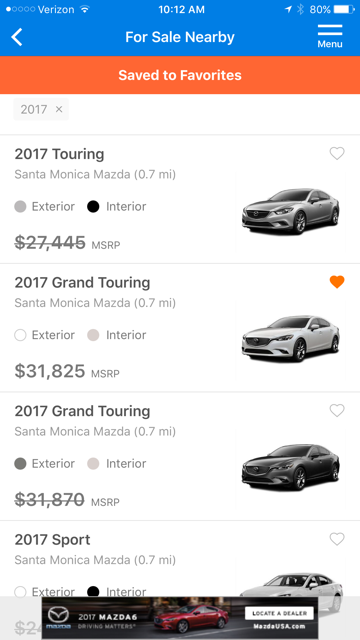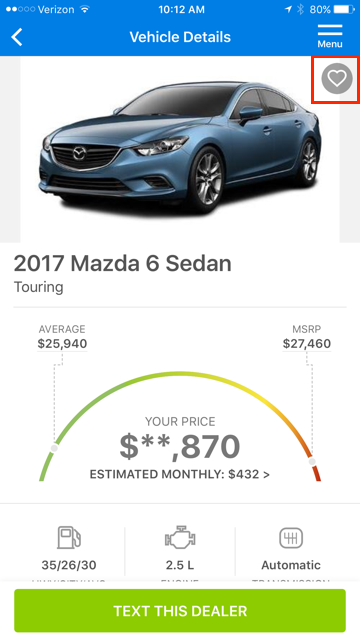 Where can I view my Favorites?
To view your Favorites list, tap the "Menu" icon in the upper right-hand corner of your screen. From there, you can click into "Favorites" to view a list of the vehicles you've selected. To remove a favorite, simply tap the heart once more.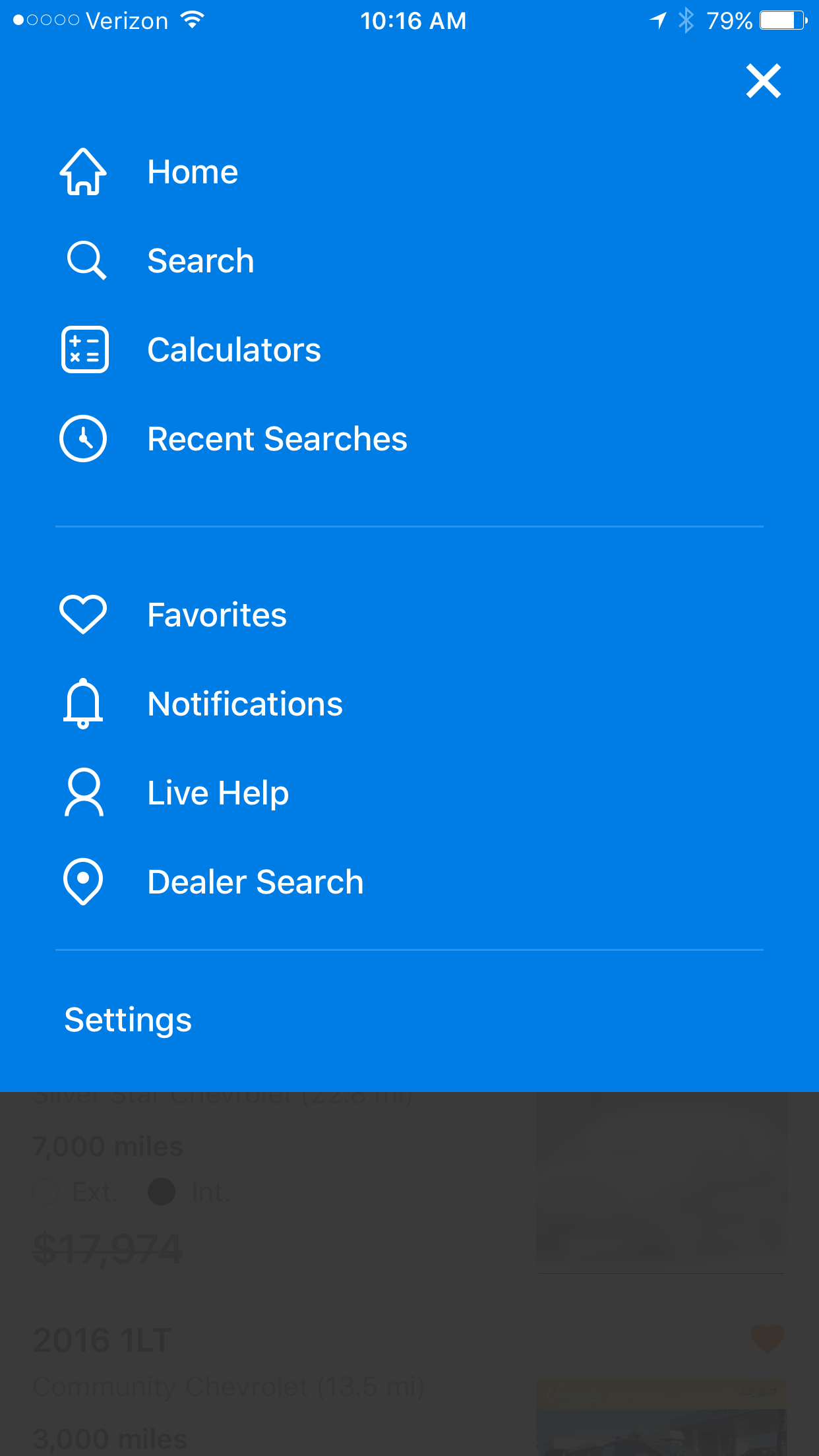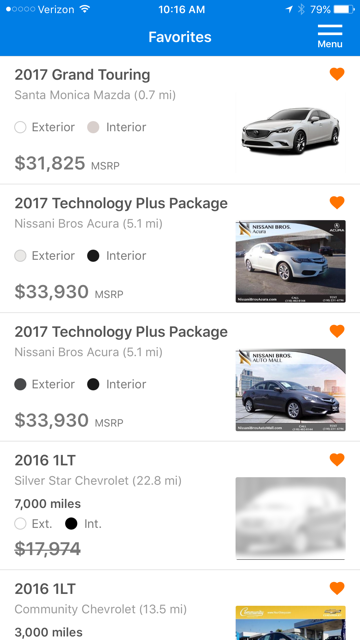 Where can I find cars that I have recently searched and how can I delete them?
Access the "Menu" icon in the upper right-hand corner of the screen and select "Recent Searches." In a leftward motion, slide over each car that you wish to delete and tap the red Delete button.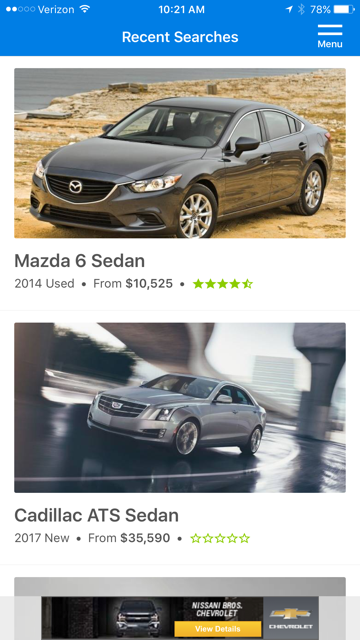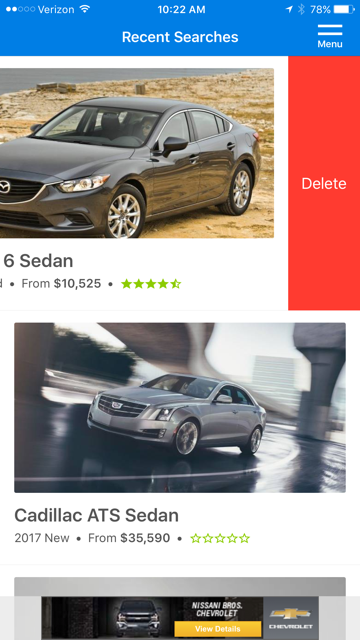 How do I expand my search capabilities and learn more about the app and Edmunds in general?
All of this information can be accessed on the Settings & Location screen, which can be found by tapping the "Menu" icon and selecting "Settings".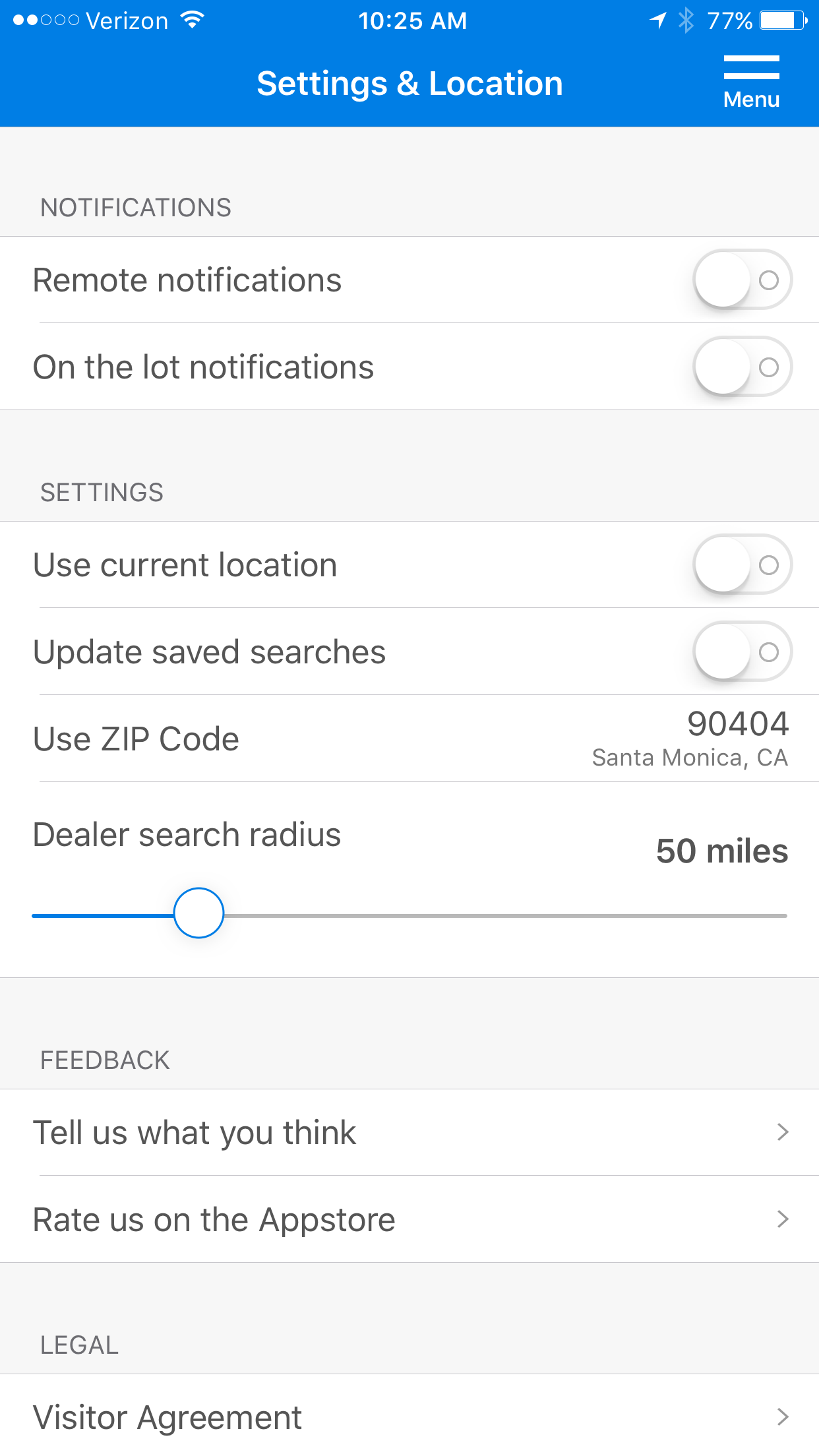 Questions or feedback?
We would love to hear from you! If you have any feedback on our iPhone app or if you have any car shopping questions, please feel free to reach out to our Customer Care team. Simply select Live Help from the Menu in the upper right-hand corner of the screen. We are available for all of your car shopping questions Monday-Friday from 8 AM to 5 PM (Pacific). To learn more, please visit our Help Center.