Many investors and analysts are in a hurry to make sense of the split release with Apple's (NASDAQ:AAPL) iPhone 8 and the iPhone X when it comes to demand. Will consumers hold out for the X? Will low iPhone 8 pre-orders mean demand is low overall and the X will flop?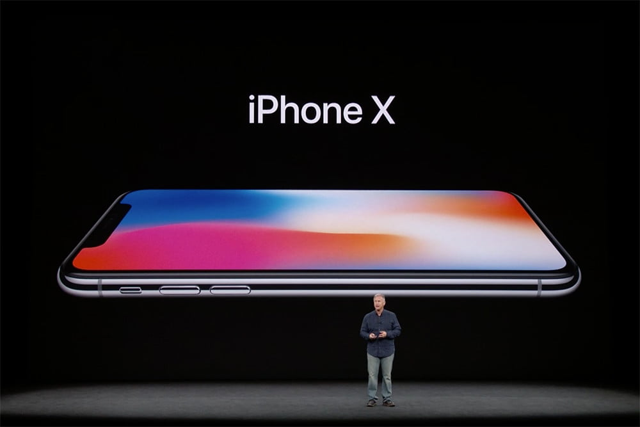 Right now, the conjecture surrounding pre-orders for the 8 and 8 Plus without knowing what the demand for the X is makes for nonsense talking points. It doesn't tell us anything and doesn't predict anything, but there a key piece of information which does.
Now, this is my first article covering Apple on Seeking Alpha, so it's likely you don't know my bias or preconceived notions on the company or its products. Let me make it clear: I don't like Apple, I don't like its products, and my only ownership was an iPod as a kid and it was a gift. I sell my iTunes gift cards given to me during the holidays, and I do my best to tell my iPhone-toting friends and family they own an overpriced, overhyped piece of hardware, and the functionality on my Android was there before Apple even had a release event.
Now that you know I really don't care for Apple, I will tell you there something to Apple selling iPhones at higher prices, and this could be the next leg in its search for higher profits. In fact, the release of a $1,000 iPhone X is probably the best move the company has made in recent times.
The phone has intrigued me on some level with the "new" functionality - even though the Face ID concept is not groundbreaking, since there are similar security technologies used in highly sensitive areas such as hospitals and banks. The difference is the form factor and the further advancement with software to make it work in the real world effectively. But again, my HTC U11 unlocks my phone with my face too - so yeah, there's that.
But honestly, functionality is neither here nor there when it comes to sales, market share, and profits for the company. Instead, the focus is on the prestige and the price tag of the phones, irrespective of the latest and greatest technology someone else might have developed first. The idea of not owning the "best" in the company's lineup bugs a lot of people. And, as with anything, the best costs the most.
If we do some digging on Apple's past performance, we find the company has the highest volume of unit sales when its average selling price is the highest. If I were looking toward the release of the iPhone X as an investor, I would be taking some solace in the fact this is Apple's strongest muscle.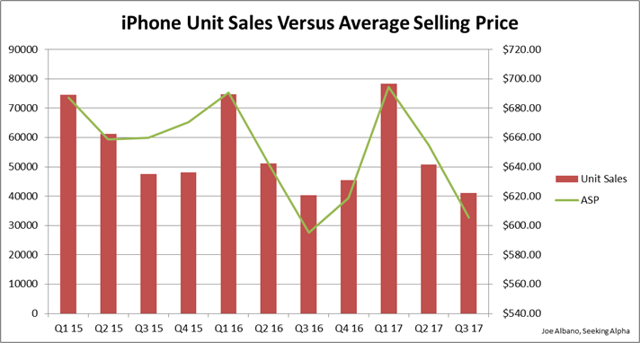 It's clear when Apple has a higher-priced phone or series of phones, consumers come out and purchase those higher-priced phones in droves. Some of this can be due to the ability to finance phones nowadays - tack it on to your cell bill, or finance it with Apple and pay it off in two years. Considering the iPhone 8 Plus costs $39.50 a month with AppleCare+, while the X costs $49.91 a month, also with AppleCare+, there's not a big financial reason to limit yourself for $10 a month less. We're talking two less trips to Starbucks a month (maybe one for you crazy latte drinkers).
So all is great, right?
Not exactly. Apple has worked itself into a bit of a conundrum with the X. Because of the tech involved in the phone, namely OLED screens, there are supply constraints holding back production. Most believe it will take into 2018 to ramp production enough to fill demand. This would be the only reason Apple cannot generate the higher revenue based on higher ASPs.
Is this a problem? In the short term it is, at least to those who watch the stock price daily. If Apple's Q1 comes in shy of expectations on the top line, the stock may sink on that alone. However, if the demand pulls forward, then Q2 may be higher than in the past, and this will be apparent in guidance. In other words, Apple will see revenue move into its out-of-season quarters.
The fallout could be those who don't want to wait till March 2018 to get the X and upgrade their 6 or 7 give up and upgrade to the 8 or 8 Plus, but I foresee this as naive considering the "want the best" mentality of this particular consumer group.
So, while Apple may have put the higher prices formula into high gear, it quite possibly is going to struggle to satisfy the demand of the crowd and limit its sales - a self-inflicted wound. But if there's one company which can maintain consumer interest and the desire to own the best out there until it's available, it's Apple.
Disclosure: I/we have no positions in any stocks mentioned, and no plans to initiate any positions within the next 72 hours.
I wrote this article myself, and it expresses my own opinions. I am not receiving compensation for it (other than from Seeking Alpha). I have no business relationship with any company whose stock is mentioned in this article.